Strahinja is an athletic, impulsive and hard-working African young man from Mali. Three years ago, when the migrant crisis started, he left Africa with his wife Ababuo. Seeking a better life, they managed to make it to Germany but were deported back to Belgrade. Serbia might not be Germany but to Strahinja it's a decent country, where he can settle and start a new life. A football player on trial for a local club, a volunteer for the Red Cross, Strahinja stacks all the odds in his favor. Thanks to his efforts, he is convinced that they will get asylum, but the process is long.
Arsenijević wrote the script along with his frequent collaborator Bojan Vuletić and Nicolas Ducray. Jelena Stanković is lensing the picture, which is to be edited by Vanja Kovačević. The key roles are played by Ibrahim Koma, Nancy Mensah-Offei, Maxim Khalil, Rami Farah, Nebojša Dugalić, Slaviša Čurović, Strahinja Blažić, Radovan Miljanić, Vladimir Grbić.
Strahinja is being produced by Belgrade-based Art & Popcorn and coproduced by France's Surprise Alley, Luxembourg's Les Films Fauves and Bulgaria's Chouchkov Brothers.  It has been supported by Film Center Serbia, as well as by France's CNC, Film Fund Luxembourg,  the Bulgarian National Film Center and Eurimages.
The shooting will wrap on 14 December. The film is being shot on location in Belgrade and surrounding areas. The budget is 1.2  million EUR.
Production Information:
Producer:
Art & Popcorn (Serbia)
This email address is being protected from spambots. You need JavaScript enabled to view it.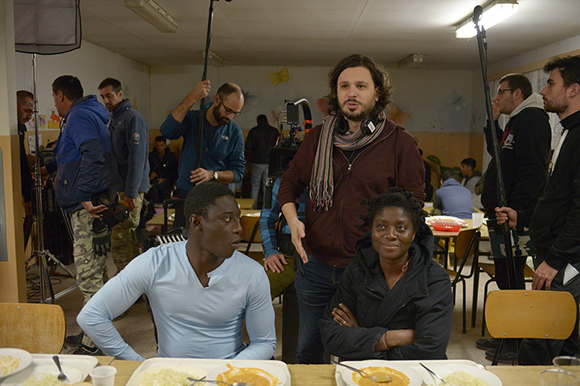 Coproducers:
Surprise Alley (France)
Les Films Fauves (Luxembourg)
Chouchkov Brothers (Bulgaria)
Credits:
Director: Stefan Arsenijević
Scriptwriters: Stefan Arsenijević, Bojan Vuletić, Nicholas Ducray
DoP: Jelena Stanković
Editor: Vanja Kovačević
Cast: Ibrahim Koma, Nancy Mensah-Offei, Maxim Khalil, Rami Farah, Nebojša Dugalić, Slaviša Čurović, Strahinja Blažić, Radovan Miljanić, Vladimir Grbić