The film tells a story of a 15-year-old boy and a 27-year-old woman, who are neighbours sharing the same courtyard. The boy loves the young woman and spares no effort to deserve her attention. His feelings meet many obstacles, sometimes awkward, sometimes tragic, sometimes comic and most often tragic-comic. The story is set in a seaside town, in a typical Italian-style courtyard, where people of different nationalities and beliefs live together and spend their entire free time playing lotto, and where neighbours are more curious to know each others' lives than their own.
The film is a Georgian/Lithuanian coproduction produced by Batumi Art-house Film Independent Studio through the involvement of Sulkhan Turmanidze, in coproduction with Ieva Norviliene through Tremora. The project received 300,000 GEL / 93,000 EUR from the coproduction funding competition of the Georgian National Film Centre and 80,000 GEL / 24,500 EUR from the film production development funding competition of the Ministry of Education, Culture and Sports of Adjara, Georgia, in 2019.
"The total budget is estimated at 174,507 EUR / 523,521 GEL. We have 117,383 EUR already confirmed and obtained, and 57,124 EUR will be obtained through potential coproducers' contributions and Eurimages or other available funding," Sulkhan Turmanidze told FNE.
"The main idea behind Rain on Two Sides is precisely the diversity of ideas and characters presented in the film. This kaleidoscopic courtyard is a reflection of the life itself; the game of lotto, which has turned into an indispensable part of everyday existence here, reflects fortune and destiny; making everyone wonder - who gets what?! At the centre of events is of course love: Zuriko's one-sided affection towards Aihan. Aihan, on her part, is seeking true female emancipation. Hopeless Marlen becomes more absorbed by his musical practice; Qavtara cannot stop playing his detective games; newly released criminal Gaga returns to the previous way of life; Karlo becomes increasingly agitated by Tania's breasts and Karlo's family, on the other side, become increasingly restless because of Karlo. And so on… lotto goes on! All these characters find themselves tied together by their search for true love. Everybody strives for love and there is never enough of it," Zaza Khalvashi told FNE.
The director will work with a cast of non-professional actors.
The project is now in the pre-production stage. Principal shooting will begin on 17 October 2019 in Batumi and will last until 17 November. The expected release date is May 2020.
Production Information: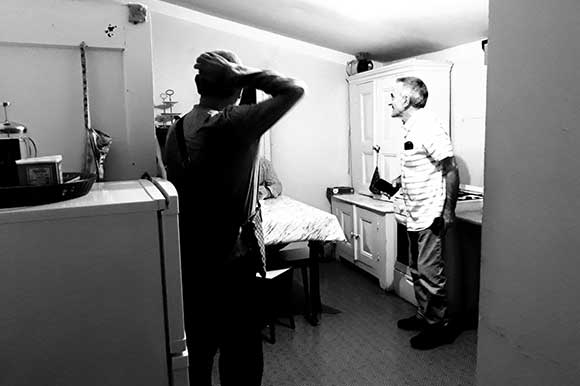 Producer:
BAFIS (Georgia)
Flat 5, 2 Gorgiladze st. Batumi 6000, Georgia
This email address is being protected from spambots. You need JavaScript enabled to view it.
(+995) 595 961 800
Tremora (Lithuania)
Pamėnkalnio 23-7, LT-01113, Vilnius
phone./fax.: +370 (5)2 49 75 78
mobile: 8 686 975 84
e-mail: This email address is being protected from spambots. You need JavaScript enabled to view it.
Credits:
Director: Zaza Khalvashi
Scriptwriter: Zaza Khalvashi
DoP: Giorgi Shvelidze
Production designer: Akaki Jashi
Producer: Sulkhan Turmanidze
Coproducer: Ieva Norviliene