Who's Next? comprises three parts inspired by real-life stories from Slovakia, Russia and Canada. The internet altered the fates of the three main protagonists and brought them between life and death. Rapper Aless is a victim of cyberbullying, Oleg and Vadim are the world's best-known roof-toppers, who take risks so as to gain the best shot with the greatest number of likes, while the third story is about a victim of sexual blackmailing.
The cast includes Alessia Capparelli, Peter Brajerčík, Vitaliy Raskalov, Vadim Makhorov, Angela Nikolau, Stano Saško, Brian Caspe and Anita Sonnberger.
The film was shot in 29 days on different locations around the world from 2016 until the beginning of 2019.
The project produced by Miro Drobný was supported by the Ministry of Education of the Slovak Republic, the Ministry of Justice of the Slovak Republic, Connecting Europe Facility, the Office of the Deputy Prime Minister of the Slovak Republic, Child Safety Line, SK-NIC and other institutions. The budget has not been disclosed.
Local distributor Bonton film released the film in Slovakia on 22 August 2019. In the first weekend the film was ranked fourth at the box office with 7,059 admissions and 40,148 EUR gross.
Who's Next? has been screened in 13 festivals worldwide so far and won best feature at the 2019 Travel Film IFF Moscow and Cinema Perpetuum Mobile ISFF in Minsk.
Production Information: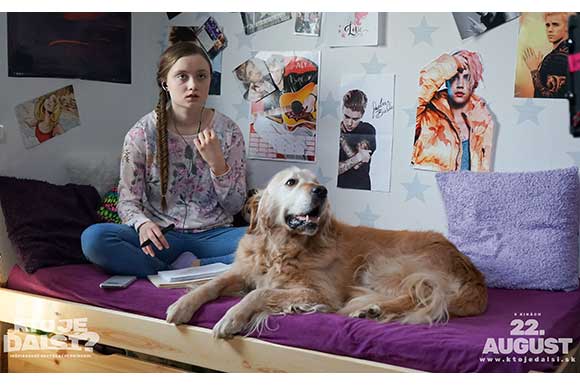 Producer:
Miro Drobný (Slovakia)
This email address is being protected from spambots. You need JavaScript enabled to view it.
Credits:
Director: Miro Drobný
Scriptwriter: Miro Drobný
DoP: Richard Žolko
Editors: Miroslav Gerbel, Dominik Reisel
Sound: Pavel Dvořák
Music: Šimon Tomáš
Set Design: Michal Skrak
Costumes: Veronika Vartíková
Cast: Alessia Capparelli, Peter Brajerčík, Vitaliy Raskalov, Vadim Makhorov, Angela Nikolau, Stano Saško, Brian Caspe, Anita Sonnberger