Gym points to that eternal problem we are all trying to avoid admitting to ourselves: in everybody's inner circle, there is that one idiot that you maybe should not be supporting. In Riki's life it is his co-worker and brother-in-law-to-be Ado. The catering company they are both working for is about to close, and Ado decides that the best way to approach the problem is to just beat up the top notch cakemaker Melisa who left the company, and make her work with them again. As the catering event where they will all meet approaches, Riki must decide what his part in this catastrophe will be.
The cast includes Edin Koja Avdagić, Filip Radovanović, Faruk Hajdarević and Dina Mušanović.
Bosnian company Realstage is producing in coproduction with Croatia's Kinorama, Slovenia's Iridium film and Montenegrin Dogma studio.
The Ministry of Culture and Sport of Canton Sarajevo, BH Telecom, the Croatian Audiovisual Centre, the Film Centre of Montenegro, the Slovenian Film Centre and the Lottery of Bosnia and Herzegovina supported the project so far.
The budget is set at 305,000 EUR and the producers are still looking for potential partners to close it.
Principal photography started on 10 April 2023 and will last for 16 days. The film will be completely shot in Sarajevo, using the National Museum of Bosnia and Herzegovina as its primary location.
There is no sales agent attached yet and all territories except for Bosnia and Herzegovina, Montenegro, Croatia and Slovenia are available.
The film is expected to premiere in 2024.
Production Information: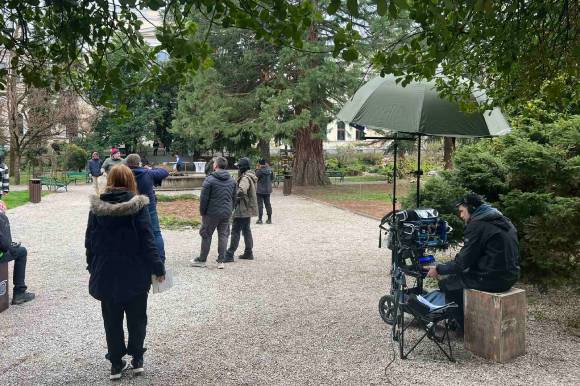 Producer:
Realstage (Bosnia and Herzegovina)
Ishak Jalimam: This email address is being protected from spambots. You need JavaScript enabled to view it.
Coproducers:
Kinorama (Croatia)
Iridium film (Slovenia)
Dogma studio (Montenegro)
Credits:
Director: SrđanVuletić
Scriptwriter: SrđanVuletić
DoP: Darko Herič
Set designer: Vanja Nogo
Costume designer: Katarina Pilić
Make-up artist: Mojca Gorogranc
Cast: Edin Koja Avdagić, Filip Radovanović, Faruk Hajdarević, Dina Mušanović