The Clan / Klan is an eight-part series envisioned to consist of three seasons, whereas Tycoon / Tajkun comprises 10 one-hour episodes. Both series are set to be aired during 2020 with Tycoon leading the way with a release date in the first quarter of next year.
The Clan follows two local thieves as they struggle to become leaders in Belgrade's criminal underworld.
Boban Skerlić is directing from his own script and Ivana Miković is producing. The main characters are played by Aleksandar Dimitrijević, Nedim Nezirović, Vladimir Kovačević, Nenad Popović and Mladen Sovilj.
Tycoon is a drama thriller following the turbulent life of the powerful Tycoon and his dysfunctional family, as enemies from both sides of the law threaten to destroy his business empire. Đorđe Milosavljević wrote the script.
Miodrag Stevanović and Ivana Miković are producing. The key roles are played by: Dragan Bjelogrlić, Tihana Lazović, Vuk Jovanović, Bane Trifunović and Marko Baćović.
No budget has been disclosed so far. The Clan started shooting on 5 October 2019 and will wrap shooting on 26 December 2019, while Tycoon started production on 10 October 2019 and is expected to wrap up by 15 January 2020. Both series are being produced for Telekom Serbia, which will decide what station will have them aired.
Boban Jevtić, the former director of Film Center Serbia and now the head of content and strategy at Firefly, is the creative supervisor of both series.
Production Information:
Producer:
Firefly (Serbia)
This email address is being protected from spambots. You need JavaScript enabled to view it.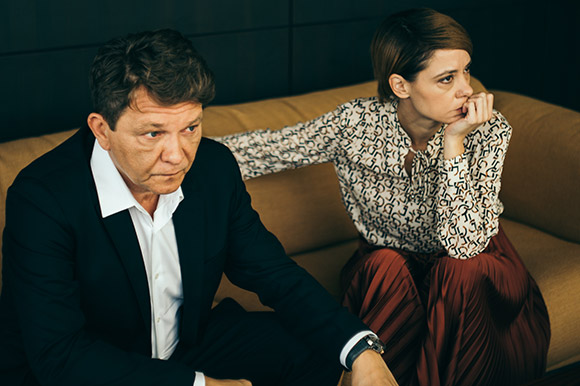 Credits:
The Clan / Klan
Director: Boban Skerlić
Scriptwriter: Boban Skerlić
DoP: Maja Radošević
Cast: Aleksandar Dimitrijević, Nedim Nezirović, Vladimir Kovačević, Nenad Popović, Mladen Sovilj, Ivan Zarić, Stojan Đorđević, Sava Stojanović, Uroš Jovčić, Miloš Tanasković, Miloš Petrović Trojpec, Dejan Karlečik, Feđa Štukan
Tycoon / Tajkun
Director: Miroslav Terzić
Scriptwriter: Đorđe Milosavljević
DoP: Radan Popović
Cast: Dragan Bjelogrlić, Tihana Lazović, Vuk Jovanović, Bane Trifunović, Marko Baćović, Hana Selimović, Neven Bujić, Vanja Nenadić, Dubravka Kovjanić, Ivan Đorđević, Miloš Petrović Trojpec, Rade Marković, Minja Peković, Olga Odanović, Anita Mančić, Toni Mihajlovski, Jelena Đokić, Svetozar Cvetković, Gordana Gadžić, Miodrag Krivokapić, Vojo Brajović, Jovo Maksić, Feđa Stojanović, Bogdan Diklić, Bojan Žirović, Janko Volarić Popović, Peđa Bjelac